Bank Slogans And Taglines, Translated
One of the more memorable – or laughable – bank slogans was Scotiabank's "you're richer than you think".  The poorly timed ad campaign ran through the financial crisis of 2008-09, including commercials at Cineplex theatres across the country.  The response was not kind – moviegoers heckled, swore, and tossed drinks as the tagline appeared on the screen.
Related: Can you trust advice from your bank?
Despite the controversial slogan the campaign was a successful one for Scotia – becoming the most recognized tagline among banks in Canada.  But the Royal Canadian Air Farce had it right when they turned the slogan on its head to read: Scotiabank – "We're richer than you think."
I'd personally translate the bank slogan to this: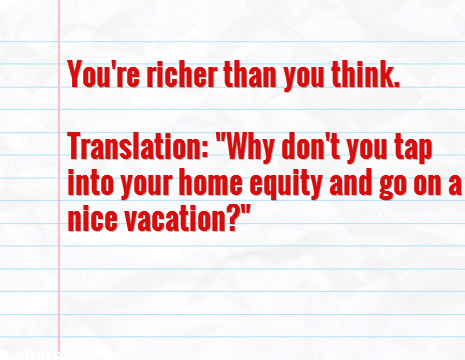 Here are some other bank slogans and taglines, translated:
ING Direct – "Save Your Money."
Translation:  "Give us your money so that we can lend it to someone else at a higher rate."
Tangerine – "Forward Banking."
Translation: "We don't have to do much to stay ahead of the big banks in Canada.  I mean, mobile cheque deposits have been around since 2009 in the U.S., but up here we're innovators!"
Related: Tangerine: The Bank Formerly Known As ING Direct
TD – "Open earlier, open later. Even Sunday"
Translation: "We don't care that most of you want to bank online.  We're going to make you come in and speak to an advisor so we can sell you more products.  Any time, day or night."
Related: Why more banks are extending hours, opening on weekends
BMO – "Making money make sense"
Translation: "You're too stupid to handle your own money so leave it to our team of experts."
Don't know what to do with your inheritance money?  You'll be in good hands with one of our investment advisors.  Don't worry about that time an advisor mistakenly wired $87,555 to a scammer pretending to be one of his clients, while the actual client was having open heart surgery.
CIBC – "For what matters"
Translation: "We care about the big picture stuff."
Like the time CIBC sent out a memo outlining standards for its bank branch openings, including such big picture details like how to properly decorate a cake.  Red-and-gold brand colours should be used, as well as the firm's logo and, in the best of all possible worlds, the official CIBC tagline "For what matters."
MasterCard – "There are some things money can't buy. For everything else, there's MasterCard."
Translation: "We know you're tapped-out and can't afford to take a nice vacation or buy your kid a new bike.  But look how much fun everyone's having in this commercial.  C'mon (rubs fingers together), just put it on credit this one time."
Related: A Lannister Always Pays His Debts (And So Should You)
Sun Life – "Money for Life"
Translation: "We offer expensive and complicated investments, insurance, and annuity products that are designed to collect money from you for the rest of your life."