Converting Your RRSP To A RRIF At Questrade
Many investors like to take the reins and self-manage their own investment portfolio using a discount brokerage platform. DIY investing can be relatively straightforward during your contribution years, but investing can get more complicated when it comes time to withdraw from your portfolio. This article will explain the steps involved in converting your RRSP to a RRIF using the Questrade platform (know that the process should be similar across discount brokerage platforms).
Before we get into the details, here's a quick guide to Registered Retirement Income Funds:
RRIF Basics
A Registered Retirement Income Fund (RRIF) is a way to convert your RRSP into an income stream. You can open a RRIF at any time, but you must convert your RRSP to a RRIF by the end of the year you turn 71.
Once your RRSP has been converted to a RRIF you must begin withdrawals by the next calendar year. There's a minimum mandatory withdrawal schedule that you must follow, which increases every year.
The withdrawal formula for those 70 and under is calculated as 1/(90 – age). For example, a 65-year-old must withdraw a minimum of 4% (1/90-65).
The minimum withdrawal amount is based on the value of your RRIF on December 31 of the previous year. Again, our 65-year-old investor who has a RRIF balance of $425,000 as of December 31 last year would need to withdraw a minimum of $17,000 (4% of $425,000) by the end of this year.
The minimum RRIF withdrawal at age 71 is 5.28%.
As a RRIF holder you must follow the minimum withdrawal schedule, but know that there is no maximum limit to how much you can withdraw in a given year (whether you want to withdraw more is another story).
Investors can continue to invest their funds inside a RRIF in the same way they invested inside their RRSP.
RRIF Tips To Consider
Minimum required withdrawals from a RRIF will not be subject to withholding taxes from your financial institution. Withdrawals from your RRSP are immediately subject to withholding tax of 10% to 30%, depending on the amount withdrawn. Of course, RRIF withdrawals are still considered taxable income so plan your cash flow accordingly for tax time.
RRIF withdrawals at age 65 qualify as eligible pension income. This allows the recipient to claim the Pension Income Tax Credit (a non-refundable tax credit of up to $2,000). RRIF withdrawals at 65 and older are also eligible for pension splitting with your spouse.
Lump sum withdrawals from an RRSP are not considered eligible pension income and does not qualify for the Pension Income Tax Credit. RRSP withdrawals cannot be split with a spouse.
Some financial institutions charge what's called a partial de-registration fee to withdraw funds from an RRSP (the fee can be as high as $50 per withdrawal). Withdrawals from a RRIF plan are typically done fee-free.
Many retirees convert their RRSP to a RRIF well before the mandatory age of 71 to take advantage of the above benefits. Know that you can hold more than one RRIF. You can convert a small portion of your RRSP to a RRIF to take advantage of the Pension Income Tax Credit while keeping the remainder of your RRSP intact until age 71.
One retirement income strategy that is becoming more popular is to withdraw from an RRSP or RRIF to meet your spending needs in your 60s and then defer taking CPP until age 70 to lock-in a 42% enhancement to your government benefits.
Converting Your RRSP To A RRIF At Questrade
With the RRIF basics and tips out of the way, let's look at exactly how a DIY investor can convert their RRSP to a RRIF on their own.
The process of converting your RRSP to an RRIF at Questrade is quite simple and only requires three steps:
1.) Open an RRIF at Questrade (you'll be asked to confirm payment details as part of the account application process to ensure your RRIF payments will be processed correctly).
2.) Transfer the holdings of your RRSP to the new RRIF account (the rollover process takes 3-4 business days, and you won't be able to trade during that time).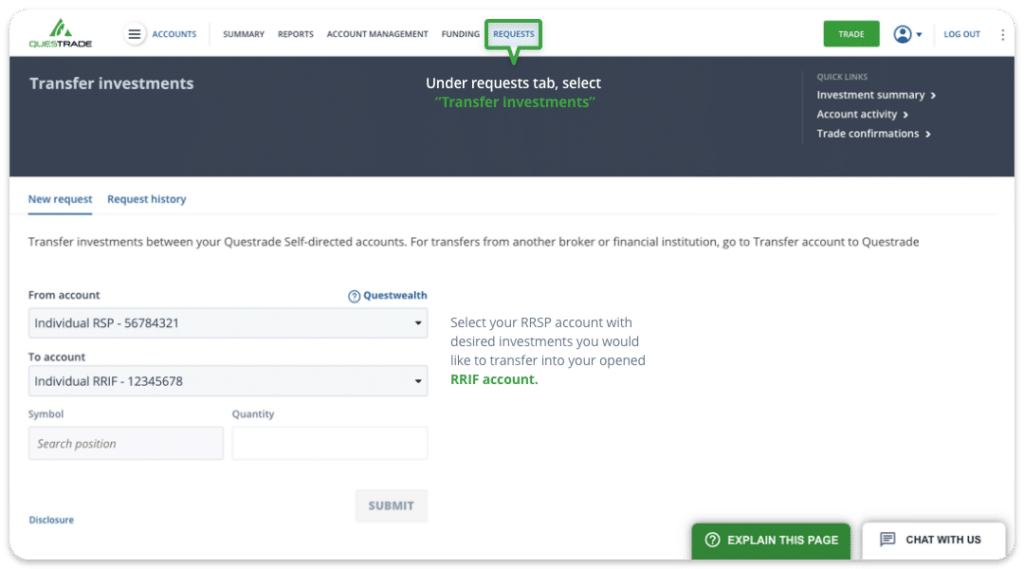 3.) Start receiving your RRIF payments
Questrade has a team of customer service agents to help if you need assistance. I've personally found the online chat feature to be helpful if you don't want to wait on hold.
If a customer hasn't opened their RRIF and rolled over their assets by December of the calendar year they turn 71, then Questrade will automatically open the RRIF and complete this process for them – all at no additional cost. To re-iterate, there is no mandatory minimum withdrawal in the year the RRSP is converted to a RRIF, but there are mandatory minimum withdrawals beginning the next calendar year.
When it comes to converting a Locked-In Retirement Account (LIRA) to a Life Income Fund (LIF), the process is almost identical, except that you open a LIF from the account opening screen instead of a RRIF.
Final Thoughts
Many self-directed investors are confused about converting their RRSP to a RRIF. They want to know if they can do it themselves, or if the process is automatic. They want to know if it's possible to convert an RRSP to a RRIF prior to age 71, and why it would make sense to do so.
Hopefully this article has shed some light on how easy it is for DIY investors to convert their RRSP to a RRIF using the Questrade platform, or any other discount brokerage platform.