Endy, Casper, Bear: Three Online Mattress in a Box Companies Compared
How do you disrupt a mature, billion-dollar mattress industry? Take the mattress out of the store, put it online, and deliver it right to your door with a money-back guarantee.
That's exactly how a growing number of online direct-to-consumer start-ups led by Endy Sleep and Casper have begun to nibble away market share from traditional retailers like Sleep Country, Leon's, and Ikea.
Ordering a mattress without lying down on it in a showroom might seem akin to buying a car without taking it for a test drive. Online mattress sites elegantly solve this problem by shipping the mattress directly to your home and offering a generous risk-free trial period.
My wife and I decided to replace our 12-year-old Sealy Posturepedic mattress earlier this year and so we researched the mattress-in-a-box trend to see if one would work for us.
Online Mattress-in-a-Box Comparison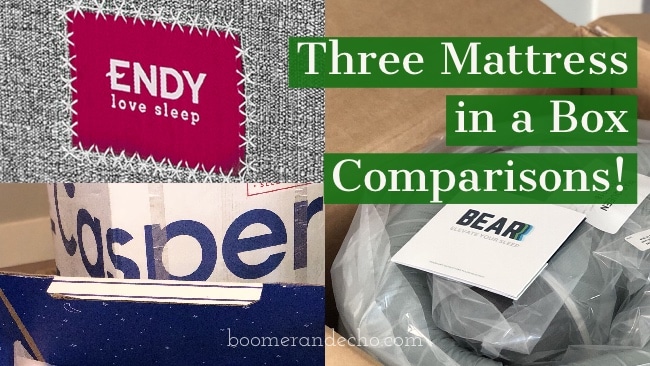 We looked at dozens of online mattress retailers and found that most of them had similar qualities; a proprietary-foam mattress made of eco-friendly materials, priced around $1,000, ordered online and shipped free to your home with a 100-night risk-free trial. Some also sold other sleep products, such as pillows and sheets.
We tried a queen mattress from Endy, Casper, and Bear and slept on each for two weeks (mattresses were provided free for this review). Here is how we thought each online mattress-in-a-box compared:
Endy Sleep: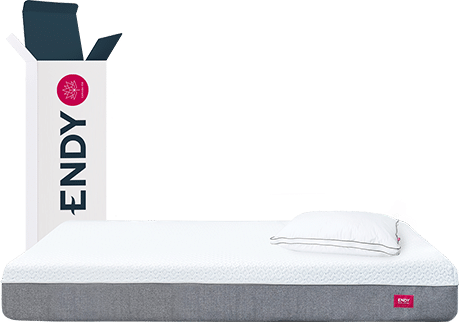 Background: Launched in 2015, Endy is now Canada's largest direct online-only mattress store. The company sold its 25,000th mattress in 2017 and forecast to exceed $20 million in revenue last year.
The Mattress: Canadian-made with proprietary Endy Comfort Foam. Microscopic AirCell technology provides the perfect balance of comfort and support, plus temperature control, pressure relief, and motion transfer resistance. The 10-inch high, three-layer foam mattress comes available in six sizes.
The Price: Endy mattresses range in price from $675 for a twin, $775 for a full, $850 for a queen, and $950 for a king. The mattress comes with a 10-year warranty and 100-night risk-free trial. Use promo code ENDY50 to get $50 off your purchase.
The Review: We thought the Endy mattress struck the right balance between firmness and sink. It kept us comfortable and cool, controlling the temperature for the duration of our sleep. The mattress offered good edge support for those who sleep near the side of the bed, and we found motion transfer to be minimal while getting in and out of bed, or when one of us tossed and turned.
Best for: Side-sleepers, couples, and those who prefer a medium-firm mattress.
Visit Endy's website to learn more about this mattress.
Casper Mattress:

Background: The U.S.-based Casper launched in April 2014, earning $1 million in revenue in its first 28 days. In 2015, the company's first full year, Casper earned $100 million in revenue, doubling that in 2016 with $200 million. In less than 3 years the company has earned more than $300 million in revenue.
The Mattress: The Casper mattress is designed to sleep cool with breathable open-cell foam. Four supportive layers of high-density memory foam and a springy comfort layer provide balanced support. Manufactured and assembled in the United States, the Casper is 10 inches high and comes available in all six standard sizes.
The Price: Casper mattresses range in price from $725 for a twin, $1075 for a full, $1175 for a queen, and $1275 for a king. The mattress comes with a 10-year warranty and 100-night home trial.
The Review: We found the Casper mattress to be softer than the Endy, yet as a 200-pound man, I felt I sunk into the harder, less comfortable support layers of foam. This mattress also noticeably retained heat, something that my wife and I had trouble adjusting to.
Best for: Smaller individuals, those who prefer a bouncier mattress, and multi-position sleepers.
Visit Casper's website to learn more about this mattress.
Bear Mattress:
Background: Bear was founded in 2014, and after a year of product development and testing Bear Mattress hit the US market in late 2015. Bear reached the seven-figure revenue mark during its first full calendar year at retail (2016), and was an eight-figure business in 2017.
The Mattress: The Bear Mattress is specifically designed to improve muscle recovery of athletes and active individuals. The mattress is engineered with a layer of premium graphite-gel infused memory foam and *Celliant technology, and sleeps up to seven times cooler than traditional memory foam. The 10-inch high mattress comes available in six sizes.
*One reason we wanted to try the Bear Mattress is for the Celliant technology, which supposedly enhances rest from sleep, helps regulate body temperature, and increases recovery time from athletic performance.
The Price: Bear mattresses are priced in U.S. dollars and cost $640 for a twin, $740 for a full, $840 for a queen, and $940 for a king. The mattress comes with a 10-year warranty and 100-night risk-free trial.
The Review: The Bear Mattress was the firmest of the three we tested and also kept us coolest throughout the night. The firmness took a few days to get used to but after about a week we found the mattress to be quite comfortable.
Best for: Stomach-sleepers, athletes, and those who prefer a firmer mattress.
Visit Bear's website to learn more about this mattress.
FAQs
Q: How does the shipping process work?
The mattress get compressed, rolled, and packaged into an easy-to-ship box. Our queen mattresses weighed between 60-70 pounds. Shipping takes anywhere from three to seven business days.
Q: What do they do with the returned mattresses? 
If you decide that you want to return the mattress during the 100-night risk-free trial period, contact the company and they will arrange to have it picked up from your home. In most cases, the return is typically done by arranging the removal with a local charitable organization who would benefit from the donation of a gently used mattress.
Q: How long after unboxing my new mattress can I sleep on it?
Almost immediately. Once your mattress arrives, simply open the box, unload the rolled mattress on your bed-frame or the floor near your bed, and remove the plastic wrapping. Once the plastic is open, the mattress will immediately start to expand back to its original size and it will be ready to sleep on in just a few hours.
Give the mattress some time to fully acclimate to your bed frame, as it takes a day or two for it to completely settle in and for the core to stabilize.
Q: Does the mattress have an odour?
As with any new product, there may be a bit of a scent that will dissipate shortly after unpacking your mattress. I didn't notice an odour with any of the three mattresses. My wife did notice a smell after unpacking the Endy and the Casper, but any trace odour disappeared after a day or two. She did not notice any 'off-gassing' after opening the Bear mattress.
The Verdict
This online mattress experiment felt like something out of Goldilocks and The Three Bears, with the Casper too soft, the Bear too firm, and the Endy being just right for us.
While there was elements we liked about all three mattresses our one wish is that they were all a bit thicker. If that's a concern for you as well then consider getting a mattress topper or pad to boost the height.
A word of caution: there's a definite adjustment period when switching from a traditional spring mattress to one made of foam. Most online mattress companies recommend a full 30-night trial.
I'm a side-sleeper and my wife is a stomach sleeper. We both had our best sleep on the Endy mattress and found it to be the most comfortable after two weeks. Your mileage may vary.