4 Reasons Why I Don't Use A Mortgage Broker
Earlier this week Krystal Yee wrote an article on Moneyville about her experience using a mortgage broker to secure financing on her first home, and suggested anyone considering buying a home should try a mortgage broker to help them through the home buying process.
The article quoted a recent CMHC survey stating that only 48 percent of first time home buyers chose to use a mortgage broker.
Using A Mortgage Broker
I can see the benefits of using a mortgage broker; buying a home is stressful enough without having to worry about visiting multiple lenders and trying to understand the different rates, terms and conditions of your mortgage.
If the mortgage broker is doing their job, they will find you the best rate and terms according to your needs.
That all sounds pretty good, so why aren't more people using a mortgage broker when they buy a house?  Let me share 4 reasons why I don't use a mortgage broker, and probably never will: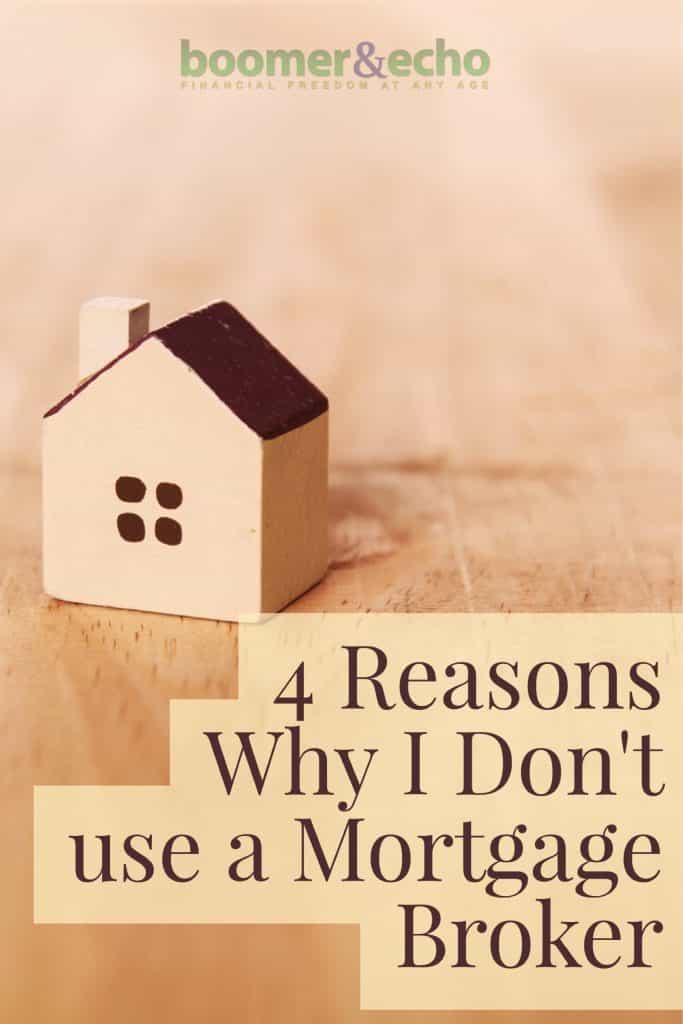 1. They Push the 5-Year Fixed Rate
Most of the mortgage broker ads I've seen claim you will save money using their services because they can locate the lowest 5-year fixed rates in the market.  The problem is, home owners would have been better off opting for the variable rate instead of the 5-year fixed rate nearly 90 percent of the time.
Using a mortgage broker to obtain the lowest 5-year fixed rate likely ensures that you will be worse off financially in five years while your broker and your lender make money.
2. I Had a Good Relationship With My Bank
Even though I recently became fed up with my full service bank and switched to no fee banking, I actually had a pretty good relationship with my bank.  Walking into my branch and asking about mortgage rates was not an intimidating process for me as a first-time home buyer.
Now that I've moved into my 3rd home and gone through several mortgage renewals and a mortgage refinancing I've received plenty of perks for staying with one lender, including waiving home appraisal fees and interest penalties.  And my variable interest rate mortgage has always been within 0.10% of the best available rate in the market.
3. Bad Reputation
My first impression of a mortgage broker was not at all positive.  They send out flyers in the mail encouraging people to refinance and use the money to take a vacation, buy a new car, or increase their amortization and consolidate debt.  They post rates on their website claiming their mortgage rates are more than 2.00% lower than the big 5 bank rates, even though they are clearly displaying the banks' posted rates and not the best available rate online.
Mortgage brokers are also quick to spread fear over pending interest rate hikes while strongly encouraging home owners that they need to "lock-in" now.  Much like mutual fund sales people, mortgage brokers get paid (or get paid more) if you buy a particular product.  Yes, their services are free to you, but you need to understand how they are being compensated for your business.
4. Do It Yourself
Mortgage brokers promote the fact that they are a one-stop shop and work with hundreds of lenders to save you time and money.  But mortgage rates are accessible by anyone online, and by using a tool like Rate Supermarket you can easily compare mortgage rates in your area with just a few clicks.
Once you narrow down your list of potential lenders you can simply request a call back and most of your research is done.  That doesn't sound like a big hassle to me.
There's nothing wrong with using a reputable and trusted mortgage broker to help walk you through the home buying process.  Just remember that not everyone is looking out for your best interests, especially when there are incentives in place for both the mortgage broker and lender to gain your business.
Make sure you do your own research and understand all of the fees, terms and conditions that your mortgage broker is negotiating on your behalf.