Let's say you had to pick one stock to hold for the next 25 years – which one would it be? Would you select one of the most valuable companies in the world today, such as Apple or Amazon, with the idea that they'll still be on top a quarter-century from now? Maybe you'd take a shot on the next big thing in artificial intelligence or bio-tech. Or what about that little conglomerate known as Berkshire Hathaway?
Investment bloggers Josh Brown and Michael Batnick got me hooked on this question when they debated over picking one stock for 25 years. Batnick, a die-hard indexer, was caught off guard and tossed out the first name that came to mind – Amazon – before walking back on that idea due to the company's current insane valuation.
Brown, on the other hand, confidently declared Alphabet to be the stock to own for the next 25 years (with one important caveat). Watch this video to hear Brown and Batnick share some smart takes on this hypothetical debate and why Brown thinks Google is the next Berkshire:
One Stock for 25 Years
The trouble with picking today's winners is that they come with a heavy dose of recency bias. Take Apple, which has been the largest and most profitable company in the world since 2011. Its massive success has come in a relatively short period of time. In fact, you'd barely recognize the company in 1993. Steve Jobs had yet to return from exile and Apple's market capitalization was less than $2 billion. Over the next 10 years he launched the iPod and iTunes, followed by the groundbreaking iPhone in 2007. When Jobs resigned, shortly before his death in 2011, Apple had surpassed Exxon as the most valuable company in the world at $350 billion.
Tech stocks have boomed over the last decade and currently hold the top six positions of the most valuable companies in the world.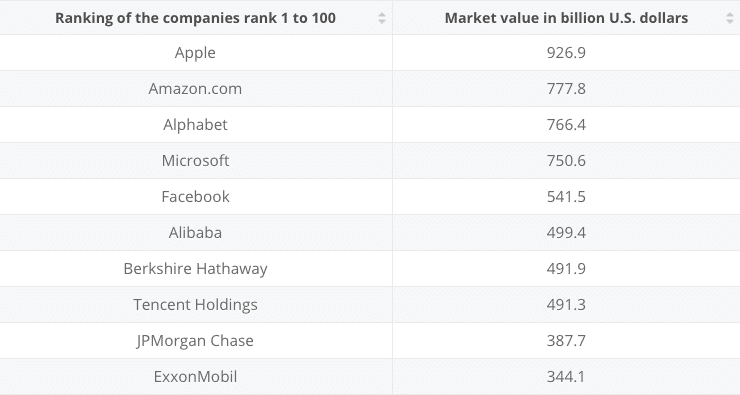 It's easy to imagine these companies continuing their success well into the future. But that could prove to be a mistake. All one needs to do is look back 25 to 50 years to see which companies were on top and compare them to where they are today.
Remember Kodak? The largest film company in the world had 90 percent of film sales and 85 percent of camera sales in the U.S. as recently as 1976. Then along came Japanese competitor Fujifilm, then the digital revolution, followed by decades of bleeding market share until it finally filed for bankruptcy protection in 2012.
Here are the world's biggest companies over the past 25 years:
Phillip Morris: 1992
Wal-Mart: 1992-1993
AT&T: 1993-1994
General Electric: 1994-1998, 2000-2005
Microsoft: 1998-2000
ExxonMobil: 2005-2011
Apple: 2011-present
General Electric would've been considered one of the top stocks to hold for 25 years back in the late 90's and early 2000's when it was the largest company in the world. But its value has fallen from $290 billion down to $113 billion and it now ranks as the 64th largest company in the world. GE shareholders have suffered along the way. After reaching a high of $60 in 2000, GE stock has plummeted to $13 today. So much for the widow-and-orphan stock.
Cigarette-maker Phillip Morris, known as Altria today, is now the 85th most valuable company in the world. To be fair, it has continued to be a strong investment and dividend producer for many decades.
Wal-Mart has been slow to grow after occupying top spot in the early 90's, but the retail giant still holds its own as the 21st largest company in the world. Same with AT&T – not a bad investment but it's now the 35th most valuable company in the world. Don't count on double-digit returns with these companies.
Final thoughts (and my stock pick)
Are you confident that Apple will continue its dominance for another two decades or more? I'm not. Heck, Facebook might not even be in the top 10 by the end of the month!
I like Google, but the bulk of its revenue comes from search engine advertising (AdWords). It's not a stretch to imagine a significant shift in the way we search for information (i.e. more voice command) which could completely change Google's revenue model before any of its pet projects can pick up the slack.
What's the future of Berkshire Hathaway without Warren Buffett at the helm? I can see Berkshire turning into a slow and steady grower like Wal-Mart and slipping down the rankings over time.
All that said, I'm going to circle back to Michael Batnick's throwaway pick and go with Amazon as my stock to own for 25 years. It has incredible market penetration with over 100 million Amazon Prime members world-wide, massive scale, and it seems intent on building for long-term global dominance. What could be next for Amazon? It plans to enter healthcare, and perhaps even mortgage lending.
Picking stocks can be a fun exercise, but it's extremely difficult to choose tomorrow's winners today. I have no doubt that bio-tech and artificial intelligence is going to change the world. Some of the companies in those sectors are going to become extremely large and valuable. I just can't identify them in advance.
That's why I stick with ETFs and index funds. I can buy the entire market without having to guess which companies will outperform over the next two-and-a-half decades or more.
Leave a comment: Tell me your top stock for 25 years and why you chose it.