Last week I previewed Fred Vettese's completely updated and revised edition of Retirement Income For Life. I'm giving away an extra copy of the book and asked readers to enter to win by sharing when they took (or plan to take) CPP. The results were interesting.
The vast majority of responses were in favour of deferring CPP to age 70 (41%). One quarter of responses favoured taking CPP at age 60. And, nearly one-quarter of responses favoured taking CPP at age 65.
| CPP Start Age | # of Ppl | % of Ppl |
| --- | --- | --- |
| 60 | 62 | 24.9% |
| 61 | 4 | 1.61% |
| 62 | 4 | 1.61% |
| 63 | 4 | 1.61% |
| 64 | 1 | 0.40% |
| 65 | 57 | 22.89% |
| 66 | 4 | 1.61% |
| 67 | 5 | 2.01% |
| 68 | 3 | 1.2% |
| 69 | 3 | 1.2% |
| 70 | 102 | 40.96% |
Deciding when to take CPP is a key consideration of your retirement income plan. What I found interesting about the responses was the rationale or the stories behind these decisions. For instance, there is a lot of misinformation about the Canada Pension Plan: that it is government run (it's not), that it will become insolvent before you collect benefits (it won't), and that you could do better investing the money on your own (not likely).
These misconceptions can lead to poor decisions. It's estimated that just 1% of CPP recipients elect to take their CPP benefits at age 70. Clearly more education is required.
Several of the responses in favour of taking CPP early showed this lack of knowledge or a perceived bias around the CPP program.
Some retired early and took CPP early to "avoid too many zero contribution years."
While it's true that your calculated retirement pension may decrease with each year of zero contributions, the amount of the decrease is typically less than the amount of the increase you'd get by deferring CPP (0.6% per month to age 65 and 0.7% per month to age 70).

CPP expert Doug Runchey uses the example that by waiting you will receive a larger slice of a smaller pie, but you will almost always receive more pie.
One response called CPP a "legal pyramid scheme."
All pensions are claims on the earnings of future generations. Indeed, CPP is a contributory pension plan and so the retirement benefits paid today rely on contributions made by workers plus any investment growth in the plan. There is no doubt that pension plans face increasing pressure with longer life expectancy, a shrinking workforce, and lower expected stock and bond returns in the future. But the health of our CPP is reviewed every three years and the latest actuarial report shows the program is sustainable for the next 75 years.
Several responses from retired readers said they took CPP at 60 and "invested the money in their TFSA."
I'm a big fan of retirees continuing to use their TFSA to invest. But it's unlikely your investments will outperform the guaranteed age-adjustment increase that you'd get by deferring CPP (7.2% per year to age 65 and 8.4% per year to age 70). A better reason to take CPP early is if you need the money to meet your spending needs. Voluntarily taking a pay cut and then trying to invest your way to outperformance is a losing proposition.
Finally, one of the most common reasons for taking CPP early is "when someone close to you happens to die early."
This experience has an 'anchoring' effect, where you don't want to end up like your friend or relative (who got nothing after years of contributing) and so you decide to take your CPP benefit as soon as possible. Anchoring to an experience like this can be useful if it prompts us to buy life insurance or update our will. But should it be a factor in your decision to take CPP early? I think not. Your own personal health should play a role, yes. But, assuming you are in relatively good health, the chances are far greater that you live a long life. Indeed, a 60-year-old male has a 50% chance of living to age 89, while a 60-year-old female has a 50% chance of living to age 91.
Overall, I was happy to see the number of people who are at least considering delaying their CPP benefits to age 70. One of the best comments was from reader B. Pratt:
"I plan to take my CPP at age 70. That's the "plan". As with all plans, there is a need to monitor and adjust as required. So if I need to start earlier than age 70, I will. One cannot be asleep at the wheel during retirement and it is always good to reevaluate plans at least once a year!"
Retirement Income For Life book giveaway
As promised, I'm going to give away a copy of Mr. Vettese's newly updated Retirement Income For Life. Many thanks to everyone who took the time to leave such thoughtful comments and share your strategy around when to take CPP.
There were a total of 220 entries into the contest. I used a random number generator to select the winner.
Congratulations to Gin, who commented on October 31 at 2:35 p.m. I will reach out to Gin by email and arrange to send out the book.
Promo of the Week
My friend Barry Choi and I have started a Facebook page called Personal Finance Canada – a private group but an open forum to discuss to discuss money topics and ask your burning questions about personal finance, investing, retirement planning, credit card hacks, travel tips, and more.
Barry and I will moderate the group and answer questions. But we plan to invite other experts to answer questions and post on topics of interest.
So, join the Personal Finance Canada page, invite your friends, say hello, and ask us your burning questions related to personal finance. We'd love to hear from you.
Weekend Reading:
Speaking of Barry Choi, he explained a new perk offered by Air Canada called a Buddy Pass. Think of it like WestJet's companion voucher, where the second traveller can fly for free, plus fees & taxes.
Our friends at Credit Card Genius introduce the new BMO Eclipse Visa Cards – offering 5x points on everyday spending.
RateSpy.com reports that variable interest mortgage rates have smashed the prime minus 1 barrier. The variable rate to beat is now 1.29%.
Half of Canadian investors aren't even aware they are paying fees. Larry Bates shares some simple steps that will help investors make more informed decisions.
Steadyhand's Tom Bradley explains why investors should spend less time trying to avoid the dips and more time preparing for them:
"Being a successful investor is less about being good at reading the economy, timing the market, or picking individual stocks, and a whole lot about dealing with the inevitable dips that lie ahead."
My Own Advisor blogger Mark Seed shares his financial independence plan. Mark enlisted the help of fee-for-service advisor and PlanEasy.ca founder Owen Winkelmolen to help him map out his early and semi-retirement options. Great stuff!
PWL Capital's Justin Bender shares the best ETF pairs for tax-loss selling:
Justin's video tutorial pairs nicely with this post by Dan Bortolotti on finding ETF pairs for tax-loss selling.
What does the stock market do around election day? Of Dollars and Data blogger Nick Maggiulli explains.
Gen Y Money explains the ins and outs of life insurance in Canada – and could it be a bad investment?
Finally, these seven business owners share lessons they've learned through success and hardship during the pandemic.
Have a great weekend, everyone!
Fred Vettese is one of Canada's leading retirement planning experts. The former chief actuary for Morneau Shepell spent his entire career working within Canada's retirement income system. He's written three books on retirement, including The Real Retirement, co-authored with former Finance Minister Bill Morneau, and The Essential Retirement Guide: A Contrarian's Perspective.
Mr. Vettese's latest is a completely revised and updated version of Canada's #1 bestselling retirement income book – Retirement Income For Life. Most retirement books focus on the accumulation phase. Retirement Income For Life is aimed at people who are close to retirement, or who are already retired, and who are going to rely mostly on their own savings to meet their retirement income needs. It assumes your main objective is to maximize your retirement income rather than maximizing the assets you leave behind if you die early.
He decided to revise the book just two years after its initial release to help readers who were still a few years away from retirement improve their financial situation. He also reorganized the chapters into a more logical sequence, and added chapters to address special situations such as high-net-worth couples, early retirees, single retirees, and early death.
Mr Vettese also addresses significant developments since the release of the first book, which include expanded CPP and the possible introduction of deferred annuities that start at 85. He also touches on the potential fallout from the COVID-19 pandemic.
The five enhancements that made up the core of the first edition remain intact. These include reducing investment fees, transferring risk to the government by deferring CPP, transfer even more risk by purchasing an annuity, know how much income you can withdraw (and actively adjust it as needed), and have a backstop (likely a reverse mortgage or HELOC).
If you're going to read one retirement book, this is it. Retirement Income For Life is an incredibly comprehensive and sensible look at how to think about retirement planning. Mr. Vettese offers plenty of wisdom throughout the book. Here's one of my favourite takeaways from the section on investment risk:
"I used to research the market on my own and trade in individual stocks. It was hubris to think I was smarter than the crowd and could profit on a consistent basis by taking a contrarian stance. Over time, I did pick a few winners, but I also picked way too many losers. I didn't beat the market anywhere near often enough to call the experience a success."
He strongly suggests you not to become a stock picker or day trader. The odds are very much against you. Instead, participate in a pooled fund, such as an index you can buy in the form of an exchange-traded fund (ETF). The author's takeaways in this chapter are worth the price of the book alone:
Future investment returns will almost certainly be lower than historical returns for many years to come
Stay away from investing in second mortgages
Real estate investing can be lucrative for long-term investors, but it is not for amateurs and it is not without risks
Long-term bonds will be especially poor performers, since bond yields have nowhere to go but up, and this would create capital losses. This includes real return bonds
Your best bet for a 5% annual return is to invest in equity funds, risky as they are
a 60-40 asset mix is probably better than 50-50 in the case of retirees with average risk tolerance
Retirement Income For Life Giveaway
I was fortunate enough to receive an extra copy of the newly revised Retirement Income For Life and I'd like to give it away to a lucky reader.
If you want to enter for a chance to win a copy of Retirement Income For Life, leave a comment telling me when you took (or plan to take) your CPP benefits and why.
Deferring CPP to age 70 is one of the author's five enhancements for retirement income planning, but in reality this option is almost never taken. I've written before about when it makes sense to take CPP at 60, and when it makes sense to defer CPP to age 70. I've also explained why taking CPP at 65 is rarely the optimal choice.
The contest will close on Wednesday November 4th at 5pm EST. I'll randomly select a winner from the entries and announce the winner in my next edition of Weekend Reading.
This Week's Recap:
On Thursday I explained exactly how I invest my own money. Thanks for the great feedback on this article!
From the archives, here's which accounts to tap first in retirement.
Remember travel? Here's how I redeemed more than 1 million points for travel last year.
I've pivoted to cash back rewards in "these times" and hope to share exactly how I did that in the coming week.
Weekend Reading:
Looking to level up your rewards credit card game? Credit Card Genius has you covered with the best credit cards in Canada.
Here's a heartbreaking look at five people who lost their jobs during the pandemic.
NPR looks at stuck at home moms and the pandemic's devastating toll on women:
"The uncomfortable truth is that in their homes, women are still fitting into stereotypical roles of doing the bulk of cooking, cleaning and parenting. It's another form of systemic inequality within a 21st century home that the pandemic is laying bare."
The Evidence Based Investing blog explains the dangers of trading from home.
Rob Carrick shares several reasons to stop worrying the pandemic will be followed by a plague of tax increases. I agree.
Michael James on Money says that owning today's long term bonds is crazy.
PWL Capital's Justin Bender looks at tax-loss selling with ETFs in his latest investing video:
Does that sound too complicated to implement on your own? Check out this post on tax loss harvesting at work with Wealthsimple.
Pension plans will use a new method for calculating commuted values as of Dec. 1 that may reduce defined benefit plan payouts.
Here's a smart take by Millionaire Teacher Andrew Hallam on what to do when financial experts say a giant crash is coming.
A Wealth of Common Sense blogger Ben Carlson says the question you should always ask when searching for higher yields is, what's the catch?
Finally, Morgan Housel has a few questions that are relevant to everyone and apply to a lot of things.
Have a great weekend, everyone! (and don't forget to comment below to enter to win a copy of Retirement Income For Life)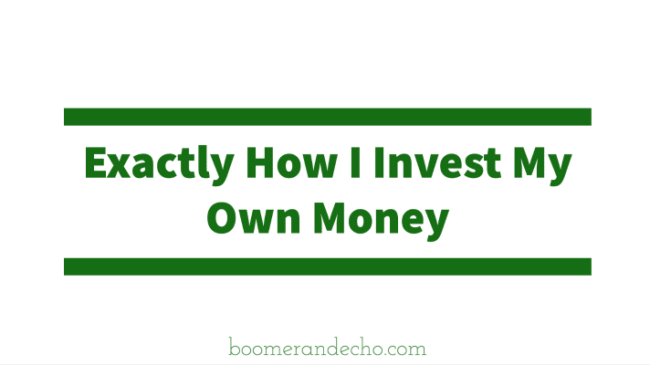 Regular blog readers know that I'm a big proponent of passive investing with low cost, globally diversified index funds and ETFs. Why? Low fees are the best predictor of future returns. Global diversification reduces the risk within your portfolio. Index funds and ETFs allow investors to hold thousands of securities for a very small fee.
Investors who eventually come to understand these three principles want to know how to build their own index portfolio. There are several ways to do this: pick your own ETFs through a discount broker, invest with a robo-advisor, or buy your bank's index mutual funds.
Still, the amount of information can be overwhelming. There are more than 800 ETFs, thousands of mutual funds, a dozen or more discount brokerage platforms, and nearly as many robo advisors. The choices are enough to make your head spin.
I narrowed these investment options down when I wrote about the best ETFs and model portfolios for Canadians. I've also explained how you can retire up to 30% wealthier by switching to index funds. Finally, I shared why you should hold the same asset mix across all of your accounts for maximum simplicity.
Now, I'll explain exactly how I invest my own money so you can see that I practice what I preach.
My Investing Journey
I started investing when I was 19, putting $25 a month into a mutual fund. When I began my career in hospitality, I contributed to a group RRSP with an employer match. The catch was that the investments were held at HSBC and invested in expensive mutual funds.
When I left the industry I transferred my money (about $25,000) to TD's discount brokerage platform. That's when I started investing in Canadian dividend paying stocks. I followed the dividend approach after reading Norm Rothery's "best dividend stocks" in Canada articles in MoneySense.
I later found dividend growth stock guru Tom Connolly (plus a devoted community of dividend investing bloggers) and started paying more attention to stocks with a long history of paying and growing their dividends.
Five years later I had built up a $100,000 portfolio with 24 Canadian dividend stocks. My performance as a DIY stock picker was quite good. I had outperformed both the TSX and my dividend stock benchmark (iShares' CDZ) from 2009 – 2014. My annual rate of return since 2009 was 14.79%, compared to 13.41% for CDZ and 7.88% for XIU (Canadian index benchmark).
But something wasn't quite right. I started obsessing over oil & gas stocks that had recently tanked. I had a difficult time coming up with new dividend stocks to buy. I read more and more opposing views to my dividend growth strategy and realized I was limiting myself to a small subset of stocks in a country that represents just 3-4% of the global stock market.
Related: How my behavioural biases prevented me from becoming an indexer
Furthermore, new products were coming down the pike – including the introduction of Vanguard's All World ex Canada ETF (VXC). Now I could buy a tiny piece of thousands of companies from around the world with just one product.
So, in early 2015 I sold all of my dividend stocks and built my new two-ETF solution (VCN and VXC). I called it my four-minute portfolio because it literally took me four minutes a year to monitor and add new money. No more obsessing over which stocks to buy or worrying if a stock was going to go to zero.
Fast-forward to 2019 and another product revolution made my portfolio even simpler. Vanguard introduced its suite of asset allocation ETFs, including VEQT – my new one-ticket investing solution.
The next change to my investment portfolio was in January 2020 when I moved my RRSP and TFSA from TD Direct Investing over to Wealthsimple Trade to take advantage of zero-commission trading.
Finally, I opened a Corporate Investment Account at Questrade this summer to invest the retained earnings in my business.
How I Invest My Own Money
I've written about personal finance and investing for more than a decade. Over that time I've done an incredible amount of research on banks, discount brokerages, robo-advisors, ETFs, index funds, and investment strategies. I've read extensively about behavioural finance and evidence-based investing. I've determined that investing in a simple, low cost, globally diversified, and automatically rebalanced portfolio will lead to the best long-term outcome.
I eat my own cooking, so to speak, and invest my own money this way. Here's what it looks like:
| Account type | Platform | Product | Amount |
| --- | --- | --- | --- |
| RRSP | WS Trade | VEQT | $223,456 |
| TFSA | WS Trade | VEQT | $82,474 |
| LIRA | TD Direct | VEQT | $149,652 |
| RESP | TD Direct | TD e-Series | $56,593 |
| Corporate | Questrade | VEQT | $80,283 |
I recognize there is no "one-size-fits-all" investing solution. Investors need different products depending on their risk tolerance and stage of life. They use different account types depending on what they do for a living, their tax bracket, cash flow, and available contribution room. They may need to use multiple investing platforms to save in an employer-sponsored plan, to reduce fees, or to open a new account type.
Why Three Investing Platforms?
I've banked with TD for my entire life and so it made sense to open my first discount brokerage account there in 2009 at what was then called TD Waterhouse. That's where I established my RRSP, TFSA, and my kids' RESP account.
I moved my RRSP and TFSA over to Wealthsimple Trade when the mobile-only platform added these account types to its line-up. I was attracted to the zero-commission trades and was tired of paying $9.99 per trade at TD Direct.
Wealthsimple Trade does not offer RESPs, LIRAs, or Corporate accounts.
I kept my kids' RESP at TD Direct, and since that portfolio is invested in TD e-Series funds I don't pay any trading fees or commissions.
I had to open a LIRA this year after leaving my public sector job and receiving the commuted value of my pension. I opened the LIRA at TD for simplicity. The trading fees made no difference since I invested the entire amount into VEQT and don't plan to make any changes (and you cannot contribute to a LIRA).
I'm a big fan of Questrade and what they've done for self-directed investors over the past 20+ years. I wanted to try out the platform for myself and had the opportunity to do so when I decided to open a Corporate Investment Account.
ETFs are free to purchase on the Questrade platform and since I planned to add new money regularly it made sense to use Questrade.
Final Thoughts
I write a lot about investing and my philosophy is all about building a simple, low-cost, globally diversified investment strategy. I've explained how I invest my own money and apply this thinking to my unique situation. But my situation is not the same as yours.
You may not have the time, desire, or temperament to open a self-directed brokerage account and buy your own ETFs (even if it's just one ETF). You may feel more comfortable with a digital or robo-advisor guiding the way.
Some of you may not feel comfortable at a robo-advisor and want to remain at your bank. There's a solution for you, too, in the form of bank index mutual funds.
Some of you may be highly motivated to optimize your ETF portfolio even more by holding U.S. listed ETFs in your RRSP to save on costs and foreign withholding taxes.
The point is that there's a solution for everyone in today's investing landscape. I hope that by sharing these strategies, and how I invest my own money, you'll be able to apply this thinking to your own investments to simplify your portfolio, reduce your costs, and ultimately lead to a better long-term outcome.