Weekend Reading: Housing Boom Edition
The Canadian housing market soared to new heights in 2020 as home prices and housing sales both hit record highs. The Canadian Real Estate Association reported a 47.2% year-over-year increase in annual sales activity, and a 13% year-over-year increase to the he MLS Home Price Index (HPI).
The average home price in Canada was a record $607,280 in December 2020.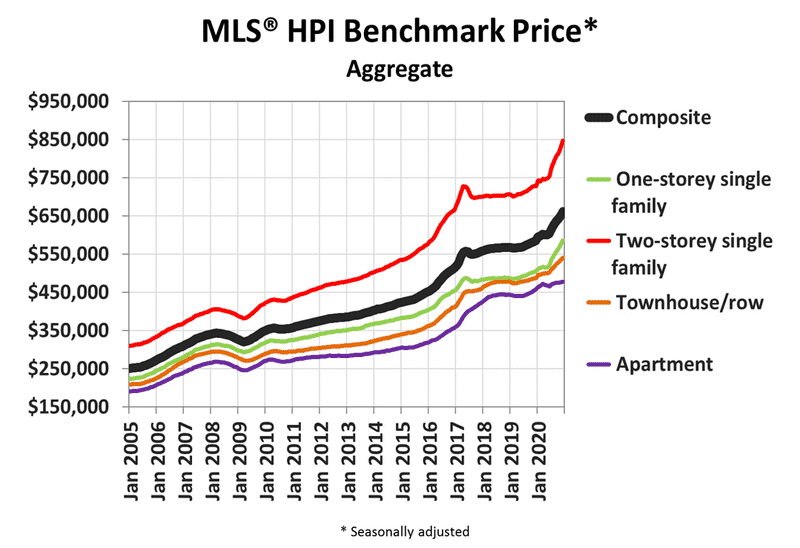 The housing boom, as usual, is led by sales in Vancouver and the GTA. Removing those two markets cuts nearly $130,000 from the national average.
But, as Global's Erica Alini reported, the pandemic housing boom wasn't just impacting Canada's largest markets. Canadians flocked to the suburbs in search of more space.
The largest gains (more than 30%) were recorded in Quinte & District, Simcoe & District, Woodstock-Ingersoll and the Lakelands region of Ontario cottage country.
Rob Carrick and Roma Luciw tackled this trend in episode 3 of their excellent Stress Test podcast. Shelter-in-place restrictions have many people reconsidering their downtown condo living and moving to smaller communities. That makes sense in "these times" when many of us are working from home and don't want to feel confined in a smaller home.
But what happens in the after times when life returns to a new version of normal? Companies may require their employees to return to the office, leading to longer, soul-crushing commute times for those who moved outside the city.
It will be interesting to see how this housing trend unfolds in 2021 and beyond. Meanwhile, rising prices continue to put pressure on housing affordability. What was once seen as mostly a Vancouver and Toronto problem is quickly becoming an issue in smaller centres as well.
This Week's Recap:
I've updated my Wealthsimple Trade Review to include the addition of desktop access to the formerly 'mobile-only' trading platform.
I had the pleasure of chatting with Kornel Szrejber on the Build Wealth Canada podcast. We talked about optimizing your investments and finances for the new year and beyond.
From the archives – Eight habits that are killing your retirement dreams.
Promo of the Week:
The American Express Cobalt Card is one of the hidden gems in the Canadian rewards credit card landscape. It's an annual winner of the top credit card in Canada for its 5x points earnings on eats and drinks, plus its robust redemption options.
This week Amex has increased the welcome bonus for the Cobalt Card to 45,000 points (up from 30,000 points). From our friends at Credit Card Genius:
The base welcome bonus offer is still around and remains unchanged. You'll earn 2,500 bonus points every month you spend $500 in the first year, for up to 30,000 bonus points earned.

But now there's a new addition to the welcome bonus. You'll earn a lump sum of 15,000 bonus points when you spend $3,000 in the first 3 months. This part of the offer is only available until May 5, 2021 for new cardmembers.
Sign up for the American Express Cobalt Card today and take advantage of the generous 50% increase to its welcome bonus.
Weekend Reading:
One knock against Amex is that it's not as widely accepted as MasterCard and Visa. Here's how to use Amex credit cards at Costco and Loblaws with Instacart.
Congratulations to My Own Advisor's Mark Seed for launching a new venture at Cashflows & Portfolios. Looks like it will be a great resource for Canadians.
Here's a trifecta of articles written by (or featuring) Millionaire Teacher Andrew Hallam:
Why a schoolteacher who built a $1 million portfolio warns against investing in some mutual funds.
ETFs are healthier retirement options, so why don't more advisers use them?
"If you're wondering why most advisers don't do this with their own money, Benjamin Felix, a financial planner with PWL Capital believes it may be because the Certified Financial Planner (CFP) education program is designed to ensure that professionals have a broad understanding of 12 topics core to the financial planning process. "Investments is one of those topics," Mr. Felix says, "but there is no requirement to fully understand the evidence in favour of buying and holding low-cost index funds."

It's easy to be cynical, suggesting that advisers stuff actively managed funds into their clients' accounts to boost trailer fees and commissions for themselves and their firms. But their personal holdings make something clear. In most cases, they simply don't know what they don't know."
And, the two reasons why most rich people don't buy expensive wine.
Here's Stephanie Hughes with the tug-of-war between Canada's small business community and rolling restrictions.
Fred Vettese was a guest on the Canadian Money Saver podcast talking about unconventionally planning for retirement.
A Wealth of Common Sense blogger Ben Carlson says it's okay to build wealth slowly.
The Evidence-Based Investor explains the problem with stocks like Tesla:
"The most important takeaway is to avoid speculative stocks (like small biotech firms), which tend to be small, unprofitable, trade at high valuations, and experience high asset growth. On average, they disappoint. Broad, market-cap-weighted portfolios tend to have limited exposure to these stocks to begin with, particularly those that include large-cap stocks.

It may be tempting to set aside some "fun money" to try to catch the market's next big winners early. However, the smaller those allocations are, the better."
Rob Carrick compares GICs versus annuities to see which held up better as interest rates plunged.
Finally, John Heinzl answers a reader question about understanding income splitting rules before commuting your pension. He says that income from an LIF or RRIF does not qualify for splitting until the year in which the LIF/RRIF owner attains age 65. The pension credit of up to $2,000 can also be claimed in that year.
Have a great weekend, everyone!