Why We Ditched Our Endy Mattress And Went With Novosbed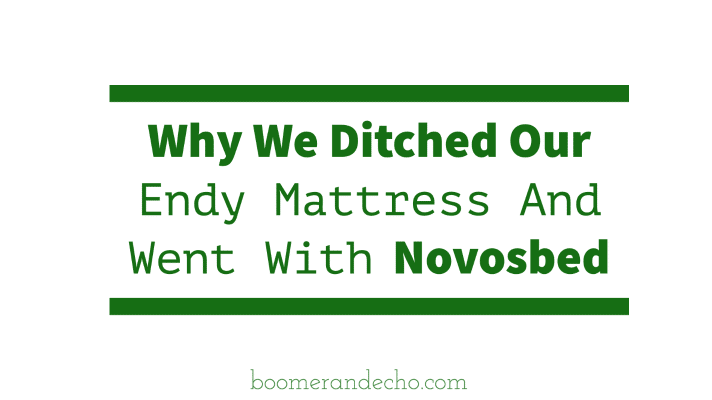 This is the story of why we ditched our Endy mattress and chose Novosbed for our remodelled bedroom.
Four years ago, my wife and I wanted to replace our 12-year-old Sealy Posturepedic mattress. We heard about the bed-in-a-box trend – dozens of brands were selling foam mattresses online and shipping them directly to consumers – and so we decided to investigate. We pored over countless reviews and comparisons before testing out three different queen mattresses: one from Endy, Casper, and Bear. Ultimately, we chose the Endy mattress and slept comfortably on it for the next three-and-a-half years.
We remodelled our bedroom late last year (because who hasn't renovated something during these times) and decided to upgrade to a king bed. That meant we needed a new mattress and, naturally, Endy was our first choice.
We paid $950 for an Endy king mattress and received it within a few days. After unboxing the mattress and letting it form to size, we laid down and something didn't feel right. We had a horrible sleep that night! The mattress was not as firm and did not feel like the same material that was used in our old Endy queen mattress.
Of note, Endy was purchased by Sleep Country in November 2018. I reached out to Endy's customer care team, and they confirmed that something had indeed changed:
"Yes, we did change the materials from a few years ago to now, we use air capsules whereas before we were using a cooling gel."
In addition, the quality did not seem the same. It wasn't as firm, or as thick as our previous mattress. The Endy 'specs' said the mattress was 10" thick but ours didn't even reach 8" thickness after 48 hours. Also, the corners of the king mattress didn't lie flat, they curled up.
Novosbed Review
Disappointed with our new king mattress we returned the Endy and started the shopping process all over again. We heard great things about Novosbed, which is another Canadian-owned and operated company selling mattresses online.
In fact, Novosbed launched the world's first risk-free sleep trial back in 2009. They expanded their line-up of mattresses over the years to include brands like Douglas, Logan & Cove, Recore, and Brunswick to name a few. Now rebranded as GoodMorning.com, they're one of Canada's largest independent online-only mattress retailers.
What we liked immediately about Novosbed is that they offered three choices of firmness instead of a one-size-fits-all choice like Endy and most other foam mattress retailers offer.
To select the appropriate firmness option Novosbed has a handy questionnaire and recommendation tool online. It includes the following questions:
Do you sleep by yourself or with a partner?
Height and weight of you and your partner
Are you a side, back, or stomach sleeper?
My wife and I prefer a firmer mattress and so we chose The Novosbed – Firm.
Novosbed Pricing:
Novosbed describes itself as an affordable luxury mattress. It's made of premium, high-density memory foam and is made in North America. Their mattresses come in the following sizes and price points:
| | |
| --- | --- |
| Size | Price |
| Twin | $999 |
| Twin XL | $1,099 |
| Full / Double | $1,199 |
| Queen | $1,399 |
| King | $1,599 |
| California King | $1,599 |
Shipping is free and usually takes 1-7 business days within Canada. Each Novosbed comes with a machine-washable cover. Shoppers can choose from three 'firmness' options (soft, medium, or firm) and the mattresses are 11" thick.
Sleep Trial
Novosbed has a generous 120-night sleep trial, one of the longest in the industry. If you don't like your Novosbed mattress you can return it within the 120-night sleep trial and Novosbed will issue a full refund and make arrangements for the mattress to be picked up (typically gets donated to a local charity).
Novosbed also lets you fine-tune the firmness. After 30 nights, if you're not in love with your mattress, Novosbed will send you a free Comfort+ kit to make your mattress firmer or softer.
Our experience with Novosbed
We ordered our Novosbed King mattress through GoodMorning.com and received it within three business days. The mattress-in-a-box is heavy and took two of us to lug it up the stairs and into our bedroom.
We unboxed it, removed the plastic wrap, and rolled it out onto the bed frame. The mattress decompresses within about 30 minutes but takes around 24 hours to reach its full intended comfort.
It can take some time to adjust to a foam mattress if you're used to sleeping on a spring mattress. For us, since we had slept on a foam mattress for four years, we knew after the first night that this mattress was "the one".
We'd say the Novosbed firm mattress is slightly firmer than our old Endy queen mattress, but not as firm as the Bear mattress that we tested out years ago. The Novosbed mattress provided the firmness we were looking for with a comfortable 'sink' that hugs you while you sleep.
We're thrilled with our Novosbed king mattress and are now enjoying our remodelled bedroom. If you're looking to make a mattress change or upgrade your sleep experience, I'd highly recommend checking out Novosbed.
*GoodMorning.com provided product in exchange for my honest review. All opinions are my own.*