Let's Get Blunt About Your Financial Affairs: Book Review and Giveaway
Most people don't like paying taxes, and reading about taxes has to be up there on the list with having your teeth drilled. Not so for the readers of Mark Goodfield's blog, The Blunt Bean Counter.
Mark shares his expertise on tax and financial matters in a clear, often humorous, and – yes – blunt way. That is what has made his blog popular for the past five years.
Let's Get Blunt About Your Financial Affairs is a compilation of many of the best posts from the blog.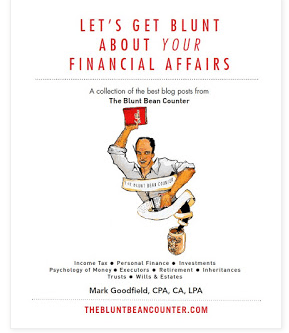 Mark has been a Chartered Professional Accountant for over 25 years. His knowledge of the Income Tax Act, combined with practical insight from dealing with his many clients, allows him to simplify a complex topic so his readers can understand and apply the concepts to their own situations.
Mark's humour comes through in his chapter headings.
e.g.   Inheritances, Wills and Estates – Love, Money and Greed.
One Big Happy Family – Until We Discuss the Will.
Peruse through the contents – organized by topic – and you'll find there's something for everyone.
Chapters on income tax include:
How long do I have to keep my income tax records?
Tax –Loss selling
Income tax implications of purchasing a rental property
People who are boomer-age or older will welcome the advice on estate planning such as:
Transferring the family cottage.
Probate fee planning – Income Tax, Estate and Legal issues to consider
Family Assets – Dividing, Sharing & Taxing
For business owners and potential entrepreneurs there's a whole section devoted to personal, technical, and tax advice.
Final Thoughts
If you have ever found yourself mindlessly wandering through the labyrinth of pages in the CRA website, you'll appreciate Mark Goodfield's extensive tax knowledge and financial advice written in an clear, easy to read and humorous style that's applicable to many common, real-life situations. This makes a really good reference book.
I give it two thumbs up!
Time for a giveaway!
You can purchase a copy of Let's Get Blunt About Your Financial Affairs on Amazon.
Mark has also generously sponsored three copies of his book to give away to our readers, so just leave a comment below and you'll be entered to win. The contest will close on Friday September 18th at 5:00pm MST, and we'll announce the winners in the next edition of Weekend Reading.
Good luck!
127 Comments