5 Sneaky Credit Card Marketing Tricks (And How To Beat Them)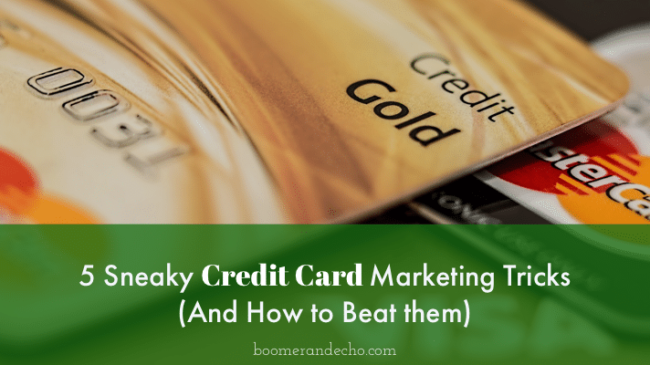 Our emotions have a funny way of making decisions for us.
Somehow, they find their way into our finances and can get us into trouble, either through credit card debt, applying for a credit card that turns out quite useless to you, or getting tricked by marketing tactics.
A good credit card is a necessity for everyday life – but they're also big money makers for the banks. That means they try to lure you in with big bonuses, impressive-sounding rewards, and oh-so-enticing luxury perks.
But, thanks to marketing magic, all might not be quite what it seems. That's why it is important to find a reliable, unbiased source of information to help guide you through the marketing noise.
Staying informed is the best way to stop ourselves from getting swept away by what we think is an amazing deal.
As a long time credit card and points enthusiast, that's why I decided to create creditcardGenius from the ground up to be as unbiased as possible. Our credit card comparison tool and rankings are 100% based on a complex math-based algorithm that rates cards solely by their merits and features.
Top 5 credit card marketing tricks (and their antidote)
There's a lot that goes into the marketing of a product – look, feel, design, colours, texture, colourful wording, and more. They all work together to pull at our heartstrings and to portray a very specific message to consumers. That message is usually: "you need me NOW."
Credit cards do that too, often in some pretty unexpected ways:
1. Misleading point values
Not all credit card points are created equal. Just because one credit card offers more points doesn't mean the points are worth more. There's usually some math involved.
For example, just because a credit card offers 10 points per $1 spent doesn't mean it has more value than a credit card that offers 1 point per $10 spent.
A common trick is to 10X the usual number of points you earn while making them worth 1/10th the value. That 20,000 point sign up bonus sure does look impressive. At least until you realize it's only worth $20 compared to the 3,000 mile bonus from another card that's worth $600.
Our antidote
For each card listed on creditcardGenius, in our brand new Rewards tab, you'll find the most extensive point value analysis available for every possible redemption value.
This way, you can easily tell if your desired redemption option provides good value in comparison to other methods. You can also see just how much your points are really worth.
The annual rewards displayed are calculated in real dollars using the estimated point value based on your rewards preferences and typical monthly spending.
Related: How to maximize your American Express Membership Rewards points
For example, if your Rewards preference is Travel, we'll display the value of the annual rewards if you were to redeem those rewards for travel purchases. If your Rewards preference is Cash, we'll display the value of the annual rewards if you were to redeem those rewards for statement credits.
If you hover over the Annual Rewards number, you'll even see the total annual rewards earned when you subtract the annual fee, as well as the average earn rate based on your spending breakdown.
2. Impossibly big bonuses
The special wording used to describe credit card welcome bonuses, for example, can create a false sense of excitement, where you think you're getting more value than you really are.
A credit card that boasts: "10% cash back on ALL PURCHASES" sounds pretty amazing, until you read further and realize that it's only 10% for 3 months, and there's a cap of $100 in rewards earned, and that 10% includes what you'd normally earn anyway so technically it's only 6% more, and Santa Claus isn't real after all…
Our antidote
The welcome bonus we display is calculated in real dollars using estimated reward point values that are based on both our extensive research and the main type of reward (cash, flex, or travel) you've selected.
This means that if your rewards preference is Travel, we'll display the value of the welcome bonus if you were to redeem those rewards for travel purchases. If it's Cash, then the value displayed will be for statement credits, direct deposits, or investment products which can be converted to cash.
The typical earn rate you'd normally get is also subtracted from this welcome bonus to show what you're really getting on top of your regular spending. This way, you see the real value of the bonus without the false sense of inflation you might get from the special wording or loads of points that have little real value.
3. Enticing design and feel
Even the design of a credit card can influence how you feel about the product. You'll notice nearly all the premium credit card offerings will have dark, greyscale colours – sleek designs in dark or metallic colours can give you a sense of prestige and mystery.
Brightly coloured credit cards will draw attention each time you use it, encouraging others to look into the product and take notice of it.
These days premium cards are even being made out of lightweight metal instead of plastic, famously saving one man's life.
Our antidote
Although we display card art, it's never the main focus. It's merely a means of identification. The main focus is always on the tangible value you'll get from each card.
There's nothing wrong with a nice looking card, but I've carried some pretty ugly cards in my wallet because they had the best rewards and features on the market.
4. Unfair comparison
When trying to find the best product, we want a fair comparison. All options should be laid out on the table.
Some online resources use tactics to get you to apply for credit cards provided by their affiliate partners rather than non-affiliated cards by purposely removing apply links, completely omitting certain cards from their database, editorial ratings that can be quite biased by compensation, and more.
In the end, you may still end up with a product you never really wanted.
Our antidote
Our 190-card database is the most comprehensive in Canada. All Canadian credit cards from every major issuer are listed, regardless of compensation.
This was a tough decision to make because, like any business, creditcardGenius needs to make money. But, as someone who would use creditcardGenius myself, I knew omitting cards is something neither you or I would want.
That's why the results on our Compare Cards page and in our annual best credit card rankings are produced purely by our unbiased all-inclusive math-based algorithm.
On the Compare Cards page you'll get results that respond in real-time to any tweak in your personal preferences. In the rankings you'll get the top cards according to a pre-configured set of preferences like "Travel".
5. Ignoring the big picture
Credit card marketing often ignores the bigger picture of your personal situation and needs and instead focuses on 1 or 2 enticing features to draw you in.
They don't look at what other cards you already have in your wallet and they don't try to understand what you care about.
I liken this to buying a house and only checking to see if the roof and the front door are good quality and to your liking – no one would do that right? That's what home inspections are for.
Then why would you only look at the number of points in the welcome bonus and the annual fee when choosing a credit card?
Not to mention what's best for someone else might not be what's best for you.
Our antidote
For a truly comprehensive analysis of your entire wallet and personalized recommendations tailored to your specific needs, there's Rate Your Wallet – a 3-minute long, easy and fun quiz that shows you whether or not your current cards make the cut, and what alternatives will give you max rewards for your spending. All based on your personal preference and spending profile.
On closer look…
So, what does your credit card look like when you take away all the marketing hype and noise? Is it as good as it seemed at first, or do you see it in a new light?
Stephen Weyman is the co-founder of HowToSaveMoney.ca and creditcardGenius.ca ‒ a purely math-based credit card comparison engine, comparing more than 50 features of over 190 Canadian credit cards, so you can maximize your rewards. Rate Your Wallet is a 3-minute quiz that tells you if your card is worth the keep.