KOHO Review: Get Up To 1.5% Cashback
KOHO is a prepaid, reloadable VISA card, plus an app that can be used to access full feature banking services to help manage your finances right from your mobile device. While a prepaid credit card doesn't sound all that special, KOHO takes it to the next level (and then some) with a product that is absolutely loaded with cool features designed to help save you money.
Let's cut to the chase: If you're interested in the KOHO card you can use my referral code BOOMECHO to get up to 1.5% cashback when you activate your card and make your first purchase. You can also earn another 0.5% cashback when you set up Payroll Direct (direct deposit with an employer).
Use this link to join KOHO and enter the referral code BOOMECHO to get up to 1.5% cashback.
I signed up for KOHO shortly after launch and have enjoyed using it for my miscellaneous spending every month, as a complement to my regular rewards credit card usage. Others have told me KOHO has become their go-to card for ALL spending – they love it that much.
Before you sign up make sure to read my full KOHO review here to determine whether the card and its app and features are a good fit for your money situation.
KOHO Review
I'll reiterate that KOHO is NOT a credit card. Instead, it's a reloadable, prepaid VISA card and can be used wherever VISA is accepted. A prepaid card won't help you improve your credit score, but on the flip side, you can't go into debt by spending money you don't have. You can only spend what's in your KOHO account.
With that out of the way let's get into the many features and benefits that KOHO has built into this excellent product.
No account fees
KOHO doesn't charge account fees or have minimum balances for its account. There's no maximum number of transactions needed either to keep your account open and active. KOHO users can also withdraw money at any ATM free of charge, although users may still be dinged $2-3 from an out-of-network ATM. With KOHO you'll also get free and unlimited Interac e-Transfers.
Compare that to the average monthly fee at one of the big banks in Canada where you'll pay $15 per month for unlimited transactions. KOHO also compares favourably with many credit cards where customers pay annual fees of $120 just to earn some cash back or travel rewards.
Finally, you won't pay NSF fees either. Instead, you'll get a friendly notification if there aren't enough funds to fulfill a transaction. Or, if you have the money tucked away in a Savings Goal (see below) the app will pull from there. Most banks charge NSF fees of up to $45 when a cheque or transfer bounces.
Cash back
When you use your KOHO card you'll earn 0.5 percent back on every purchase (up to 1.5% cashback when you sign up through a referral). This is called a PowerUp. Your PowerUps accrue separately from your spendable balance. When you want to cash out, just select 'PowerUps' and then 'Cash Out'. Your PowerUp balance will be loaded into your spendable balance.
Other Banking Features
KOHO doubles as an everyday account where users can set up Payroll Direct and have their paycheque automatically deposited onto KOHO. You can also:
Pay bills
Send e-Transfers
Connect to PayPal to either send or receive funds
Make online purchase using your KOHO card or Virtual Card
Connect to and fund an investment account.
RoundUps
KOHO can help you save by rounding up your purchases to the nearest $1, $2, $5, or $10. Once you turn on this RoundUps feature, KOHO will automatically whisk away the "rounded up" portion of every transaction and put it into your savings.
Cashing out is the same as with your PowerUps – just select 'RoundUps' and then 'Cash Out'. You can also review your RoundUps history and see how much you've cashed out all-time.
RoundUps have proven to be a popular feature and research from the behavioural psychology community views these small and automatic 'nudges' as a great way to get people to save more.
Behavioural insights
Speaking of nudges, KOHO not only offers spending insights to let you know how and where you spend your money – including monthly, weekly, and daily breakdowns – it wants to offer even better behavioural insights in the future.
Within the app is something called KOHO innovation labs. With it KOHO wants to use technology to bring you new features in the future – like the ability to pay a bill by just taking a photo of it.
It's in the data gathering stage and so the little robot asks you to take a picture of a bill and upload it to the lab for analysis. It correctly guessed that my bill was from TELUS.
Savings goals
KOHO's savings goals feature is very useful and intuitive as it helps you squirrel away a bit of money each day to help you reach your goal. It can automatically and virtually move your daily goal contribution (i.e. $5) from your spendable to your goal savings. You can cash out your goal savings at any time.
Creating a savings goal is simple:
Step 1: Go to Savings à Create Savings Goal
Step 2: Name your Goal
Step 3: Enter the amount you want to save
Step 4: Pick the date you need the money by
Step 5: Add funds to your goal (optional)
Step 6: Review your Savings Plan. Here you can edit your goal and adjust the savings frequency and contribution amount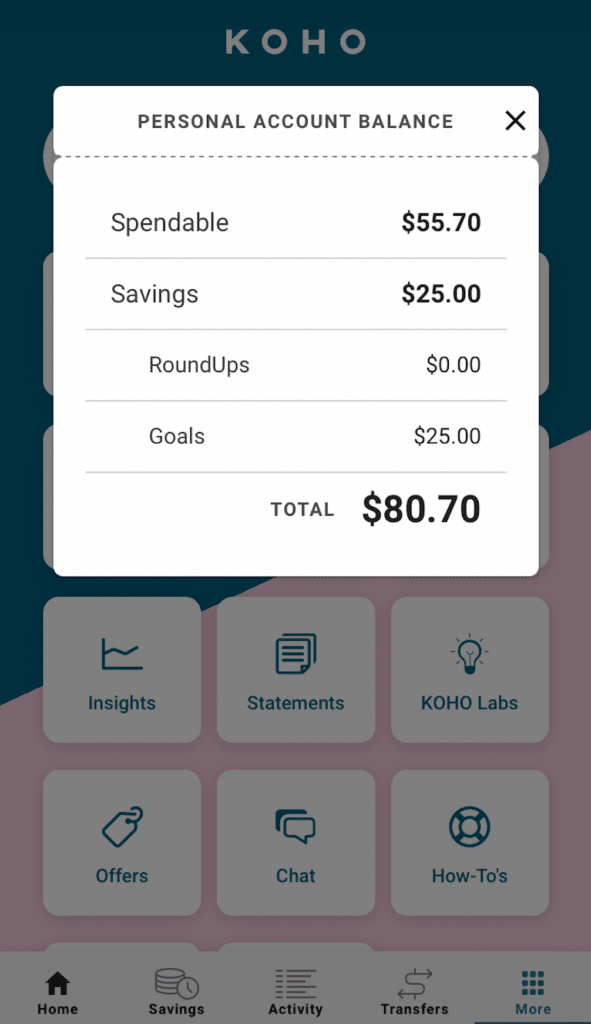 One thing I like about KOHO's savings goals is the visual separation between your spendable, your RoundUps, and your Savings. Let's say you have $100 in your spendable and decide to move $25 to your savings. Your total available balance is still $100, but in the app you'll only see $75 in your spendable and $25 hidden away in your savings. Another behavioural trick successfully applied!
Foreign exchange fees
One of the main reasons I signed up for KOHO was to save money on foreign exchange fees, especially for upcoming trips to the U.S. and abroad. KOHO charges a 1.5 percent fee on foreign transactions vs. a 3.5 percent fee with the big banks and credit card issuers. KOHO doesn't profit from the FX spread.
One side note on using KOHO for travel – here are some tips to help get the most out of your KOHO card:
Before you leave, use KOHO to save up for travel –> set a goal with the $ amount (your "travel budget") and the date, then cash it out when you're ready to travel. No more putting travel on credit.
Loading money – if you didn't use KOHO to save up for travel, load the card by e-Transfer.
Taking money out – use any ATM with a Visa Plus sign, or at any merchant that accepts Visa.
Real-time notifications – it can be hard to know how much you spend on vacation due to the exchange rates. With KOHO you'll get real-time notifications in Canadian Dollars. Specifically, if you're using a budget, this is such an easy way to stay on track. To stay "on-budget" you could move the money that was already in your general Spendable (before you cash out), into a savings goal to keep it separate until you get back.
List of blocked countries are here. Unfortunately, you can't use KOHO here for fraud protection reasons.
Joint account for travel – it's so much better than tools like Splitwise. If you're going on a trip with one other person, open a free joint account and each load whatever amount of money you want into it. Then use that for that trip!
Fees – there is a 1.5 percent FX fee (% of transaction value), vs. 3.5 percent for the big banks. There are usually ATM fees of $2-3 (charged by the merchant or bank), so you can save a bit of money by using cash and doing larger, less-frequent withdrawals.
Apple Pay – don't forget to use it abroad, too!
The newest KOHO features
KOHO users have come to expect new features and updates to their card and app over time. Here are the latest and greatest features that KOHO has to offer:
Joint Accounts
Now KOHO users can easily share finances with not only their spouse but also with a roommate, sibling, or friend. No romantic involvement necessary.
KOHO's Joint Accounts are a free and easy way to share expenses with anyone you want – making joint spending and saving easier than ever before.
Joint Accounts offer all the same spending and saving features, including a no-fee account with a Virtual Card, bill payments, pre-authorized debits, free e-Transfers, and instant money transfers to other KOHO users.
To invite someone to create a Joint Account with you, select the 'More' tab à 'Joint' à 'Create a Joint Account.'
Simply enter their email address – they do not have to be a current KOHO user. They'll get an email invitation with information on how to join.
Each partner will receive a separate 'joint card' in addition to their own personal card. This is designed so your personal spendable and savings goals stay separate from your Joint Account partner. Only joint related activity is visible to your joint partner.
Apple Pay
KOHO is now compatible with Apple Pay. Now you no longer need your physical card to make purchases in-store.
To set up Apple Pay simply tap into your Apple Wallet, select the + sign to add your card, take a photo of your physical card or manually add your Virtual Card number, and you'll be all set to make purchases wherever Apple Pay is accepted.
KOHO Premium
Launched in May 2019, KOHO Premium includes the following benefits (in addition to what users get with a regular KOHO Account):
2 percent cash-back on groceries, eating & drinking and transportation. Groceries includes both small merchants and large chains. Eating & drinking includes all restaurants, food delivery, bars, coffee shops and more. Transportation includes public transportation, Uber/ Lyft, taxis, gas, highway tolls, parking and more.
No fee on foreign exchange transactions. The big banks charge 3.5 percent per transaction and KOHO's non-Premium product charges 1.5 percent. KOHO uses Visa's stated exchange rate (with no spread) for the currency translation, so they don't profit off these transactions.
Free financial coaching. Users will get weekly money tips and can set up sessions with a CFA, FPSC L1 financial coach to create a budget or ask any questions they have about taxes, investing, debt and more.
Price-matching, whereby users can send in recent past receipts made online with KOHO and KOHO will search to see if they could have gotten a better deal. If so, KOHO will credit the difference in price to their account.
Higher "velocity" limits, meaning that users can now take out $400 at an ATM per transaction, for a max of $800 per day. Their account balance can also be $40,000 instead of $20,000.
Cost – Free for 30 days $9 per month, or $84 per year (saves $24).
KOHO's Referral Program
Sharing is caring. Through KOHO's referral program you and a friend can both receive a cash bonus of up to $60.
To refer a friend simply select the "Get $60" button at the top right-hand corner of your KOHO app to see your referral code. Tap on the code to copy and paste it or click the 'Share Invite' button to send the code directly by text or email.
Get a bonus of up to $60 – $20 when they make their first purchase, and $40 more if they set up Payroll Direct. You'll both get a notification when the bonus hits your account.
You can get started by signing up for KOHO and entering my referral code – BOOMECHO – to get up to 1.5% cashback.
Final thoughts
KOHO has put together an incredible banking tool that is poised to help thousands of Canadians manage their money. Investors think so, too, as KOHO's latest round of funding raised $42 million dollars – a deal that puts the company's valuation at more than $100 million.
Use KOHO confidently for your everyday banking needs as it toggles seamlessly between chequing account, savings account, and credit card functionality.
Or, use it like I do in tandem with your favourite rewards credit card to manage your miscellaneous or variable spending without going over budget.
Either way, my KOHO review is positive and I'm looking forward to watching this new Canadian FinTech start-up grow and prosper while helping Canadians do the same.