Weekend Reading: RIP John Bogle Edition
Vanguard founder and index investing pioneer John Bogle passed away this week at the age of 89. Bogle was a legend in the investing community for driving down costs for individual investors.
His flagship index mutual fund, now known as the Vanguard 500 Index Fund, amassed just $11 million when it was introduced in 1976. Today, it's one of the largest funds in the industry with more than $400 billion in assets.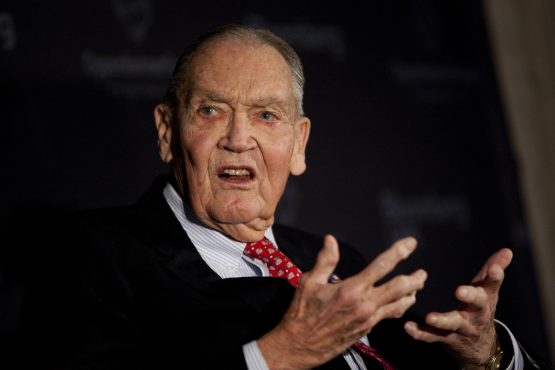 Bogle's selfless desire to reform the investment industry and eliminate sales charges has undoubtedly saved investors hundreds of millions of dollars in commissions. He also authored The Little Book of Common Sense Investing: The Only Way to Guarantee Your Fair Share of Stock Market Returns (now in its 10th edition).
If a statue is ever erected to honor the person who has done the most for American investors, the hands-down choice should be Jack Bogle. For decades, Jack has urged investors to invest in ultra-low-cost index funds. In his crusade… Jack was frequently mocked by the investment management industry. Today, however, he has the satisfaction of knowing that he helped millions of investors realize far better returns on their savings than they otherwise would have earned. He is a hero to them and to me. – Warren Buffett
Tributes to John Bogle poured in from around the investing community. Here are some of my favourites:
Rest in peace, John.
This Week's Recap:
On Monday I shared a story of an elaborate gift giving ceremony known as a potlatch.
On Thursday I urged readers to look at their monthly subscriptions and cancel the ones that aren't used or no longer offer value.
Happy Go Money giveaway
Last weekend I reviewed Melissa Leong's excellent new book, Happy Go Money. To enter the book giveaway I asked readers to share their most recent money accomplishments. The responses were amazing – 103 comments in total.
From that list I used a random number generator to select two winners who will each receive a copy of Happy Go Money.
The winners are:
Brad S., who commented on January 12, 2019 at 8:14 am
Gary, who commented on January 12, 2019 at 7:00 am
Congratulations, and thanks to everyone who entered!
Promo of the Week
Earlier this year I highlighted RBC's NOMI Find & Save program – the first in Canada to proactively analyze your spending and saving, to find those extra dollars that you won't miss, and set them aside for you automatically — to a maximum of $50/day, up to five times per week.
"With a tool like NOMI, you've got a digital buddy that will automatically shuffle $25 into your savings account when you underspend your grocery budget for the month."
NOMI Find & Save launched in Fall 2017 and in its first year, helped clients find and save over $35 million. Clients who are actively using NOMI Find & Save are saving an average of $140 a month.
This feature is now available to joint account holders, making it easier for you and your partner to manage your finances and fast track your savings goals as a household unit.
Weekend Reading:
Here's how active baby boomers are rewriting the retirement myth.
From The Harvard Business Review: How retirement changes your identity.
The real reason people fail to save enough for retirement — and what you can do to limit the damage.
Spending on experiences may be better than on things in many cases. But not spending money you don't have trumps all strategies:
Rob Carrick and Shannon Lee Simmons say credit cards get the hate, but HELOC's are the crushing debt.
Why is that? The problem with home equity lines of credit is perma-debt.
Barry Ritholtz says stock pickers do an okay job figuring out what to buy, but they need to do a better job unloading stuff.
Ben Carlson argues that complex systems combined with the human element are two skills that normally don't go together.
The Blunt Bean Counter Mark Goodfield shares a simple tool to help you organize your estate.
When kids squander money, parents are squarely to blame.
Here's what fees can do to your retirement if you don't pay attention:
When it comes to investing, here's why diversification is (almost) undefeated.
Finally, Chris Taylor argues that a side benefit of a Dry January is saving money. Indeed.