Weekend Reading: Scanning Code of Practice Edition
I picked up three pints of ice cream from Save On Foods today, not because I'm a glutton but because they were on sale and I plan on eating one of them after I run 12 miles tomorrow (okay, so I AM a glutton. What of it?). At the check-out I noticed the items rang in at $7.99 instead of the sale price of $5.99. When I mentioned this to the cashier she said something about it being tied to redeeming points – which didn't make a whole lot of sense.
I paid for my items and went back for a closer look. Sure enough, the sale price was clearly marked with no strings attached. I snapped a photo and headed to customer service to investigate. The customer service associate looked at the receipt, scanned the items, and without hesitation told me that under the Scanning Code of Practice I'd get one of these items for free, and the second for the correct sale price. She missed that I had three identical items, not two, and offered me a full refund for the third item.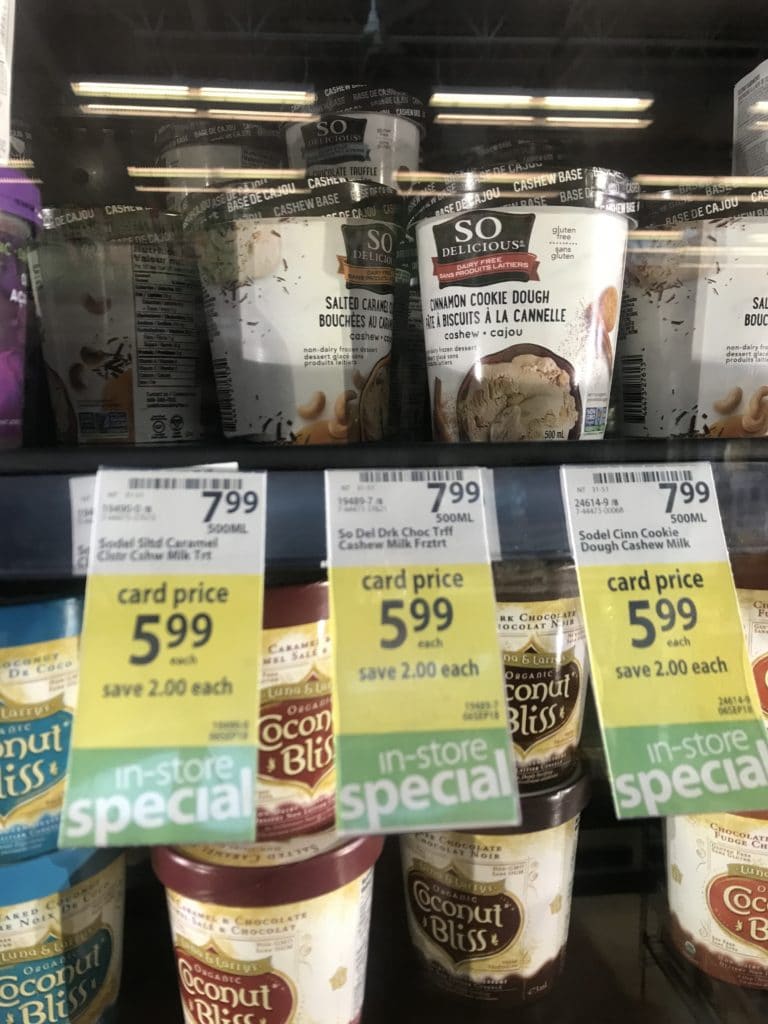 I've heard of the Scanning Code of Practice, or what's technically called the Scanner Price Accuracy Voluntary Code, but never had any personal experience with it as a shopper. Here's the 'item free scanner policy', according to the Retail Council of Canada:
Retailers will implement an Item Free Scanner Policy as follows:

1.1 On a claim being presented by the customer, where the scanned price of a product at checkout is higher than the price displayed in the store or than advertised by the store, the lower price will be honoured; and

(a) if the correct price of the product is $10 or less, the retailer will give the product to the customer free of charge; or
(b) if the correct price of the product is higher than $10, the retailer will give the customer a discount of $10 off the correct price.
I was impressed with how well the employee at Save On Foods handled the complaint. Given her efficiency I'm sure this is a somewhat regular occurrence. In any case, I got my ice cream for $5.99 instead of $23.97 thanks to the Scanning Code of Practice and an honest retailer owning and fixing their mistake.
Have you ever had to use the Scanning Code of Practice to get a free item or $10 off the product? Did you have to point out the policy, or did the cashier apply it voluntarily? Let me know in the comments.
This Week's Recap:
Just one post this week with 3 tips to maximize your credit card rewards for travel. We're saving some serious money on our trip to Europe thanks to travel rewards.
Thanks to those of you who sent in a request to have your own financial facelift. I hope to get to all of those and launch a more relatable series than the ones found in the Globe and Mail here in the near future.
Finally, on a personal note, many thanks to Washington Capitals forward Brett Connolly and the Prince George Cougars for hosting a Stanley Cup event and donating the proceeds to the Brock Hirsche Pronghorn Hockey Award at the University of Lethbridge. Brett played junior hockey with Brock in Prince George and wanted to pay tribute to his former teammate who lost his courageous battle with cancer this spring.
I had the privilege of working with Brock to establish this scholarship before his passing. He would be proud and humbled to know that more than 250 donors have now raised more than $100,000 in support of his memorial scholarship.
Promo of the Week:
I mentioned a few weeks ago that Wealthsimple was launching its own stock trading platform with zero fees. You can sign up to be on the Wealthsimple Trade wait list here and be one of the first to test out this new stock-trading service. Note that at launch it will only support cash (non-registered) accounts, but the company says it hopes to add RRSP and TFSA accounts in the future.
The Canadian Financial Summit is just around the corner (Sept 12-15) so if you haven't signed up for your free ticket to watch sessions from the likes of me, Rob Carrick, Preet Banerjee, Ellen Roseman, and more, you still have a few days to do so before the price goes up to $87 for an All Access Pass.
Weekend Reading:
I really enjoyed (and can relate to) this short piece by Michael Batnick about what it means to be a financial expert:
"I'm pretty sure that all of my conversations with people outside of finance has ended with the other person wondering if I even know anything at all about investing."
Downtown Josh Brown says you're wasting your time arguing with the Unreachables.
Michael James tries to understand why people might purposely avoid the stock market, "not because they don't believe in their long-term growth prospects, but because they understand their own limitations in figuring out how to get decent investment advice."
Here are three ways to cut your investment fees courtesy of my pal Dale at Cut the Crap Investing.
Real estate is a better investment than stocks because my parents paid $65,000 for their bungalow and just sold it for $600,000. Why do we accept stories over statistics?
Here's how investing in real estate can easily go sideways.
This piece on the cost of private school didn't generate much sympathy from internet readers.
Robin Powell interviews Larry Bates, former senior banker turned investor advocate who just came out with a new book called, Beat the Bank. Look for my review on that one soon!
It's been 10 years since Nobel prize winning economist Richard Thaler wrote the groundbreaking book, Nudge. Here's how the nudge theory has shaped public policy since then.
Here's Morgan Housel on why a lot of good ideas aren't taken seriously, or take far longer to be taken seriously than you can imagine.
And Housel again explaining why most of us have a bad sense of what emotions look like when it comes to investing:
"The picture of the emotional investor you may have in your head is the poor sap literally crying over losses. Or the maniac taking out a second mortgage to bet on a penny stock. As long as you can say, "That's not me," you can tell yourself you're an unemotional investor.

And you're probably wrong."
Do you really need an RRSP to retire? Jason Heath explains how Canadian retirees are propped up by CPP and OAS.
The sunk cost fallacy – throwing away good money after bad – happens all around us in business and investing. Why is it so difficult to avoid? Because it's hard to quit once you've invested time, money, and/or effort.
Finally, my friend Barry Choi makes his Globe and Mail debut as a travel writer. Itching to get away? Here's 10 fall deals you'll want to book now.
Have a great weekend, everyone!