Weekend Reading: What's Next For Travel Edition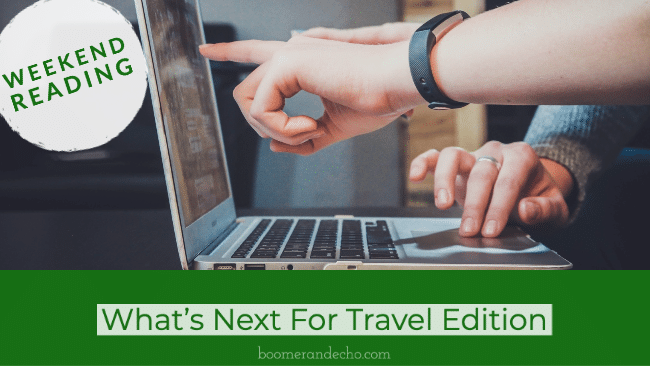 It's hard to believe that just three months ago we were preparing to travel to Italy. It was one of several trips we had planned for 2020, including a return to the U.K. in July and a trip to Victoria to close out the summer. Then COVID-19 hit and our plans quickly changed.
Italy was cancelled (obviously), but we held onto our U.K. booking until travel and refund policies became more clear. That changed last week when our return flight was cancelled by the airline. That was the sign we needed to cancel the remainder of our trip.
Some countries are preparing to loosen travel restrictions in hopes to welcome international travellers this summer. But the Government of Canada is still advising Canadians to avoid non-essential travel until further notice.
Interprovincial travel is also still widely discouraged, although restrictions vary across provinces. The BC government says, "Now is not the time to travel for tourism or recreation." That likely spells the end for our planned trip to Victoria in late August.
Our flights to Italy and the U.K. were booked through Aeroplan and so when we cancelled our miles were returned and fees & taxes were 100% refunded by Air Canada. Thousands of Canadians haven't been so lucky with their cancelled travel plans, as airlines have been issuing travel credits instead of cash refunds.
We booked our flights to Victoria through WestJet, which is likely subject to the travel credit policy should we cancel.
What's Next for Travel?
We're prepared to spend summer at home and have adopted a wait-and-see approach to future travel. While we'd love to have a do-over next year and re-book our trips to Italy and the U.K., there's just too much uncertainty to do anything as long as Canada's travel advisory remains in place.
We're also thinking about how the travel experience will change due to COVID-19. Additional screening at airports will make the check-in and arrival process even more cumbersome. Will airlines continue to leave the middle seat open and operate at 70% capacity or less? What impact will that have on airfare? Will we be required to wear masks on-board the aircraft? How will that work on longer flights with meal service?
When it comes to accommodations, would you prefer to stay at a hotel or a short-term rental (Airbnb)? I'm leaning towards Airbnb. Why?
Most hotels are poorly equipped to operate in a COVID-19 world. You have hundreds of travellers arriving from all over the world. There are way too many touch points, including check-in, baggage handling, and the ubiquitous restaurant buffet.
Many Airbnbs offer keyless entry and guests can do their own additional cleaning and sanitization to suit their comfort level.
While we dream of travelling in a post-COVID world, we've changed the way we collect and redeem credit card rewards. I switched to a cash back credit card – the Scotia Momentum Visa Infinite card – to earn more money back on groceries and other essentials. We're also collecting and redeeming more PC Optimum Points.
In the meantime, we're sitting on 600,000 Aeroplan miles – ready to deploy once it's safe to resume international travel again.
This Week's Recap:
Earlier this week I wrote about how and when to rebalance your portfolio.
Over on Young & Thrifty I explained how to invest your money in 2020.
At Greedy Rates – the stock market might crash, but what does that mean for your investments?
I applied for 13 credit cards last year. Here's what that did to my credit score.
Promo of the Week:
Last week I highlighted EQ Bank as a great place to park your emergency fund or cash savings. Of course, their website was undergoing maintenance last weekend and many of you weren't able to sign up. So, once again, here's a plug for EQ:
EQ Bank's Savings Plus Account consistently offers an everyday high interest rate at or near the top of the market with no hassles. Open an account here and fund it with $100 within 30 days and you'll get a $20 cash bonus for free.
Weekend Reading:
I enjoyed the first episode of Rob Carrick's and Roma Luciw's new podcast called Stress Test. This one looks at how to survive the gig economy.
Erica Alini explains why more seniors are expected to turn to reverse mortgages due to COVID-19.
Jason Heath shares four key things to consider before taking an early retirement package.
Here's why the bank of mom and dad will need to step in as millennials struggle during the pandemic.
Millionaire Teacher Andrew Hallam smartly explains why emerging market ETFs are a great deal now.
A shocking stat from the Better Dwelling blog shows that the Canadian personal HELOC growth rate nearly tripled in a month.
"Canadians are tapping their home equity very rapidly, and at a time it could be dangerous for them. At the start of the pandemic, the annual growth rate doubled, and nearly tripled for personal use. Considering the abrupt nature of a pandemic, it's expected to see homeowners tap home equity. That's what it's there for. That doesn't change that higher debt levels make households more vulnerable to shock."
Trevor Tombe explains why Canada might need a temporary COVID-19 tax and repayment fund.
Wondering what it's like to fly during the pandemic? The Prince of Travel shows what it's like in the "new normal":
My Own Advisor Mark Seed asks an insurance expert whether he should renew his expiring term life insurance policy.
Of Dollars and Data blogger Nick Maggiulli explores the depth of privilege:
"But privilege goes beyond growing up with wealth or having more opportunities than others. Privilege is in the color of your skin, the community you grew up in, and so much more."
Dale Roberts from Cut the Crap Investing looks at changes made to the TSX 60 Index to explain why index investing works.
Financial advisor Jason Pereira takes a critical look at the self-directed investing platform Questrade and some of its misleading advertising claims.
This Forbes article takes a look at finding your retirement paradise.
Tim Hortons is logging detailed location data of customers through its app — and many may not realize it's happening at all.
Finally, an investigation into the death of a cryptocurrency founder revealed a Ponzi scheme that cost investors $169 million.
Enjoy the rest of your weekend, everyone!