Free Seminar: Learn How To Get Ripped Off
This week, Toronto area residents will be treated to a "unique opportunity" to learn how to grow their personal wealth by buying and selling real estate.
Participants in this free workshop will discover the ingredients for success in real estate, sources of money to fund investments, locating deals in the hidden market, and creating multiple sources of cash flow.
Related: Spotting the crooks
The seminar, put on by Rich Dad Education, a company endorsed by Rich Dad Poor Dad author Robert Kiyosaki, teaches participants how to take control of their financial future, escape the rat race, and join the financial elite on the fast track to success.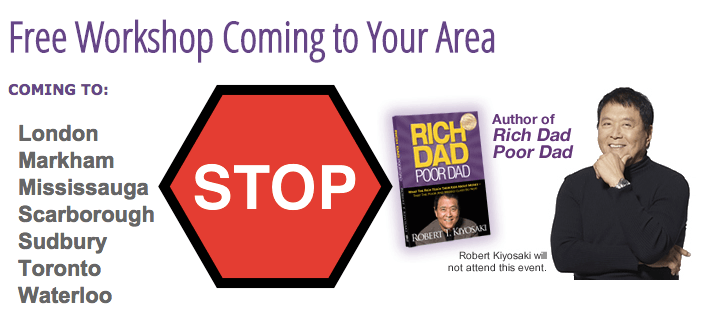 The Rich Dad series has an inspiring and entrepreneurial message for some, which is fine. Unfortunately the books are also full of lies and dangerous advice.
Kiyosaki made up a story about his "Rich Dad", a neighbour who never finished eighth grade yet went on to become one of the richest men in Hawaii, while his "poor" real dad struggled to get by.
Typical of the self-help scene – jobs are for suckers, and so are retirement plans – it's all based on the idea that the rich know something you don't, and that you can only become wealthy by using other people's money (i.e. borrowing) to invest in appreciating assets (i.e. flipping houses for profit).
Kiyosaki says you don't need a high income to be rich; you just need to make your money work for you.
In 2010, CBC Marketplace investigated the Rich Dad seminar and exposed it as a scam for consumers to avoid.
As it turns out, the "free" one-day event is really just a sales pitch for a different three-day course that costs $500. At the three-day workshop, participants were offered even longer courses – called Real Estate Advanced training – priced between $12,000 and $45,000.
Marketplace went behind the scenes at a Rich Dad seminar and then managed to corner Kiyosaki himself to question him about the training program. It's fun to watch him squirm.
Here's just some of the "advice" offered in the Rich Dad workshop:
"You're going to need your credit card to buy things that make real money – renovations and home down payments. Call your credit card company now and get your limit raised to $100,000. It doesn't take your money to make money; it takes someone else's money."
I have no problem with experts who espouse solid ideas and advice on how to improve the financial situation of others. Heck, even I encourage people to become more entrepreneurial and pursue their passions in their spare time.
Related: 4 big rip-offs to watch out for
But millions of people spend their hard-earned money on books, products, and seminars because they want to believe there's a way to escape the rat race and follow in the path that authors like Kiyosaki have shown them.
And instead of getting rich, they hear about some basic ideas that could have been found anywhere for free (i.e. pay yourself first, don't use credit for consumer goods), plus a whole bunch of hype, marketing spin, and bullshit to keep you coming back for more.
The best free advice you'll get this week? There's no magic formula to getting rich, and no free lunch along the way. These seminars are designed to play on your emotions, manipulate you to buy-in to the concept, and then, once you've invested enough of your time, get you to open up your wallet. Avoid them like the plague.